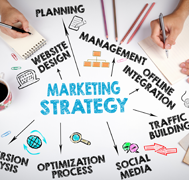 While COVID-19 has had a negative impact on economies across the world and resulted in temporary business closures and layoffs, there has been a silver lining. The pandemic has shown us the resilience of people and businesses around us.
Some businesses have thrived during these trying times because they are either offering essential services, technology solutions or simply working towards making our physically distant lives easier in some way.
If your business is booming during COVID-19, it is still important to review how you're positioning yourself in the market and how you're choosing to communicate with your stakeholders during a situation that continues to evolve rapidly.
While it may not seem like the first area you would invest in during these times, a well-thought-out marketing campaign can not only help sustain business growth but also foster positive relationships with your current and potential customers.
Communication is key
While it is true that businesses are concerned about sales figures during this time, when it comes to marketing the focus should not be on selling the product, but rather on the customer. Brands should acknowledge their customers' concerns and offer support where possible. Uplifting and informative content can help engage your customers.
Additionally, as new guidelines and regulations continue to be implemented, businesses need to acknowledge these changes and continue to keep their customers informed. For instance, as the restaurants that have been focusing on delivery and curbside pick-up gear up to re-open for dine-in, they can use their marketing campaigns to update the customers about their new policies and address any potential concerns through their owned social channels.
Be human
We have seen some incredible human stories throughout this pandemic. Individuals, businesses, and communities have come together to help each other through this difficult time.
As a brand, it is more important than ever to be human and empathetic. Use your voice on your owned platforms to provide support to those around you. You don't necessarily need a huge budget to run big campaigns. You can instead focus on sharing your story about adjusting to the new normal, highlight the achievements of your employees, and focus on offering continued consumer support through email, phone, and social media.
Focus on eCommerce
COVID-19 has accelerated the adoption of technology, especially eCommerce solutions. Those businesses that had an eCommerce website in place found it easier to continue selling their products and solutions as physical distancing rules were implemented across the world.
As the bulk of sales moved online, almost every business had to re-access its eCommerce solutions to ensure that its website was user-friendly, could sustain high traffic volumes, and was search engine optimized.
If your business is booming, it is recommended to revisit your eCommerce solutions to identify areas of improvement and ensure that your customers have a positive experience when they shop online.
Embrace the digital world
As more and more people stay at home, the time they spend on their mobile devices and social media increases. People are using their electronic devices for pretty much everything, ranging from entertainment, shopping, work, and connecting with family and friends.
According to research published by Kantar, COVID-19 has resulted in a 70% increase in web browsing, a 63% increase in traditional TV viewing, and 61% more social media engagement across different platforms.
Hence, it has never been more important for businesses to create a strong digital presence. They have to focus on improving their website's organic rankings, building their social media channels, and investing in their online marketing campaigns.
Plan ahead
As things are quite fluid and market conditions continue to change, it is crucial to revisit your marketing plans and ensure that they're updated and relevant. If you're anticipating any changes, such as new local regulations or modifications to your supply chain, reflect those in your marketing campaign so that your customers are in the loop at all times.
Planning ahead can also help you with things like reputation management and brand recognition. For instance, you can request feedback from your existing customers and share those reviews on your online platforms. Positive customer reviews are an asset and add credibility to your offerings, particularly during times like these.
Keeping track of changing external factors can be tough, that is why we work with our customers to help them build a strong marketing strategy from the ground up. We have successfully created and launched marketing campaigns for both B2B and B2C businesses. Contact us today for a free consultation!
For up-to-date information about COVID-19 in Canada, please visit https://www.canada.ca/en/public-health/services/diseases/coronavirus-disease-covid-19.html.