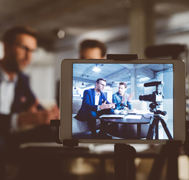 Over the past decade, B2B video marketing has established itself as one of the most important channels for marketers. Over 85 per cent of businesses use video marketing to some extent and 92 per cent of marketers who use it say it's an important part of their strategy. What's perhaps most important to note is that the number of marketers who say video marketing gives them a positive ROI has grown from just 33 per cent in 2015 to nearly 90 per cent now.
Whatever the type of viewer, people simply like to learn by watching a video. A whopping 96 per cent of people say they've watched an explainer video about a product, while nearly 90 per cent say they were swayed to buy because of it.
However, more than 40 per cent of marketers aren't making videos either because it's too time-consuming or expensive. Here are some strategies to consider that will help make your B2B videos successful.
Keep it Brief
One of the key strategies for B2B video marketing is length. If you're sufficiently concise, viewers will stop watching. In fact, studies show that over 30 per cent of viewers will stop watching if you haven't engaged them within the first thirty seconds. And if you haven't managed to engage them within a minute, you've lost half your audience.
This makes sense when you consider how busy B2B buyers are and how many pitches they field in the run of a day. So, respect their time and get to your point quickly.
Make it Easy to Find
Videos are a great way to boost your search rankings, but it's also important to remember SEO best practices so your buyer persona can find them. If you're posting to YouTube, here are three quick pointers:
Use the keyword as the name for the file itself before uploading, which will help YouTube "read" it
Use the keyword in the title of the video
Incorporate the keyword into the short description at least twice
And if you're going to use the same video for some content on your website or other social channels like LinkedIn, try to use the native video, if possible, as opposed to linking to the YouTube video.
Outbound
Incorporating video into your outbound marketing initiatives is a powerful combination. One statistic estimates that viewers retain 95 per cent of a message when delivered in a video compared to just 10 per cent through text. Likewise, nearly 60 per cent of executives say they'd rather watch a video than read text.
Sending high-level decision-makers customized video content is a great way to stand out from the hundreds of messages they receive daily.
We Can Help
By leveraging a variety of digital marketing tools including content, social selling, PPC, and more, we help our clients get more ROI and exceed their growth targets. Pulsion leverages data-driven, consumer-centric methods, like B2B video, which have proven track records in this modern, digital economy.
Contact us today by calling 1-866-507-8275 or by visiting https://www.gopulsion.io.