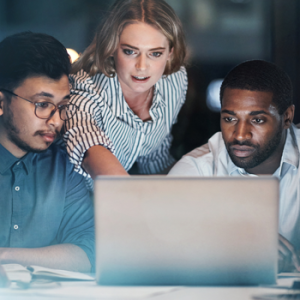 As the economic outlook becomes increasingly cloudy, the pressure to convert leads into profitable customers grows. The good news is that we have the tools to modernize the B2B lead funnel; the challenge is knowing how to put them to their best use.
Consider that less than 30 per cent of leads are ready to make a purchasing decision. As such, companies with a lead nurturing strategy enjoy 50 per cent more sales-ready leads at a third of the cost.
Seems like a no-brainer, right? But, only 34 per cent of companies have a lead nurturing strategy.
That's a lot of missed opportunities. Here's how to take advantage.
Beef Up Your B2B Lead Funnel
B2B marketing strategies have plateaued. Buyers have grown numb to the same generic queries. So, how do you differentiate yourself? Do your homework.
The first step to a winning B2B lead funnel is personalization. One way to personalize your initial query is by leveraging intent data, which provides insight into a prospect's online activities. What pain points are they researching? How can your solution address them?
Most marketers and sales teams use intent data to identify potential buyers for outreach. But that's just scratching the surface. Intent data can also be used to personalize website experiences and messaging. You just need a strategy to leverage it.
As mentioned earlier, less than a third of B2B buyers are ready to make a purchasing decision. Yet too many marketers and sales teams are fixated on the short-term hard sell. And with growing economic uncertainty, this temptation will only increase.
A successful B2B lead funnel is built for the long-term buying journey.
Sixty per cent of B2B buyers reject the first four offers. But only 8 per cent of salespeople follow up five times. Moreover, nearly half give up after just the first rejection.
Furthermore, B2B buyers now regularly use ten or more channels to communicate with buyers. Omnichannel was once a luxury in a B2B lead funnel, but it's quickly becoming an expectation.
All this means that the B2B lead funnel is getting longer and more complex than ever. To succeed in this new digitalized landscape, a robust digital marketing strategy is vital.
Let Us Level Up Your B2B Lead Funnel
As a growth marketing agency, Pulsion has the data-driven methods to modernize your B2B lead funnel. Using advanced analytics, we home in on your buyer persona with pinpoint accuracy. From there we build irresistible campaigns that drive high-quality leads that convert into lasting customers.
Ready to grow? Call 1-866-554-1465 or visit our website to request a free proposal today.