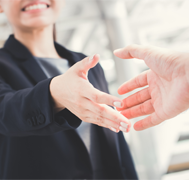 Want to increase the effectiveness of your business-to-business (B2B) digital marketing strategies? You're not alone.
According to a 2019 survey from Chief Marketing, 57% of B2B marketers rank getting targeted prospects to engage as one of their biggest challenges. Finding leads that convert was a close second, with 55% of B2B markets saying it was a challenge.
When it comes to increasing engagement and finding leads that convert, some small tweaks can make a big difference to your B2B marketing. These tips can help boost your reach and generate more leads while complementing the digital marketing activities you're already doing.
Make use of the most powerful social network for B2B: LinkedIn
LinkedIn is one of the best social networks for B2B marketing. According to HubSpot, studies have shown that 80% of B2B leads come from LinkedIn.
Yet many B2B brands are not taking advantage of all that LinkedIn has to offer. This might include:
Publishing content directly to the platform.
Making use of a company page and showcase pages.
Publishing a LinkedIn Pulse blog.
Participating in LinkedIn groups.
Using LinkedIn Enterprise features, such as InMails.
And more…
A strong, well-rounded LinkedIn strategy can take your B2B marketing to the next level.
Learn more about LinkedIn B2B techniques.
Take in-person connections online
For many B2B brands, tradeshows and conventions are an important way of creating connections with qualified leads. But how does that connection continue once the event is over? Do you stay in contact, send an email follow-up, or do you wait for the connection to contact you?
One of the best ways to continue the relationships formed at off-line events is to turn them into online connections. For instance, you could send a connection request on LinkedIn and then sharing some personalized content with the person based on your conversation.
It's easy for steps like this to fall off the radar, especially when you're busy. This is one area where having outside help (like a digital marketing agency) can be of huge benefit.
Create content for all stages of the buyer's journey
The buyer's journey consists of three main stages: awareness, consideration, and decision. The decision stage is actually the smallest segment of your potential audience. Yet most B2B marketers focus on content that only appeals to leads ready to buy.
The awareness and consideration stages are just as critical because they are what will take prospects and convert them into qualified leads.
You need content that:
Builds awareness about your brand
Positions your brand as an industry leader
Provides value to your customers outside of sales
Helps them get ready to make a decision
And more
Learn more about the stages of the buyer's journey in our free eBook.
Master the basics and then scale
When it comes to B2B marketing, there is a lot that brands can do — however, it's easy to be distracted by shiny object syndrome and ignore tried-and-tested strategies.
Branding basics such as an SEO-optimized website, consistent content posting, social media profiles, and a lead generation program are sometimes ignored or overlooked.
However, these types of actions form the foundation of your strategy and allow you to build and scale as your brand grows, so they shouldn't be skipped.
A solid base will support your endeavours well into the future and give you room to expand.
Recruit help through outsourcing
Effective B2B marketing can take a lot of time and resources, but often brands do not have the budget to hire a full-sized marketing department, especially when starting out.
Outsourcing helps extend the size of your in-house team for a fraction of the cost. Plus, if you work with a qualified digital marketing agency, you gain access to a team of experts who can determine the most effective strategies and solutions to increase conversions, grow engagement, and more.
This allows B2B brands to take their marketing budget further and achieve much more in less time and with less resources.
See more benefits of outsourcing.
What are your top B2B marketing challenges? Share with us on social media. Pulsion Marketing is on Twitter and LinkedIn.
Ask us today about our leading B2B digital marketing programs. We have a long history of working with B2B brands and growing their conversions, engagement, and marketing efforts. Call 1-888-701-4441 or visit https://www.gopulsion.io/contact/.