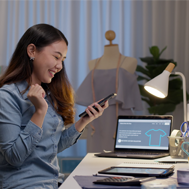 Retargeting has relied on third-party cookies for over a decade, but that's all coming to an end now. Google will end support for third-party cookies in 2023, joining Safari, Firefox, and Edge. This means digital marketers will need a cookieless retargeting strategy going forward.
Why Are Cookies So Important for Retargeting?
A whopping 97 per cent of people who visit an eCommerce site for the first time leave without buying anything. The good news is that you can retarget these visitors by showing them products or services from your website, particularly items they'd left in their shopping carts. For instance, if a customer abandoned a t-shirt in their cart, you could show them images of that shirt while they browse Facebook or Google.
Third-party cookies were foundational for retargeting because advertisers could use them to track a user across the web as they visited different sites, building a profile based on search behaviour. However, people became increasingly uncomfortable with the way sites tagged them and shared that data with other sites.
Now, if someone uses Safari to browse shirts, Facebook won't have access to that data, so advertisers can't retarget those shirts on Facebook.
How the Cookie Crumbles
Are third-party cookies really all they're cracked up to be? The numbers seem to suggest so:
Retargeting increases web traffic increases by 700 per cent.
Retargeting reduces cart abandonment by 6.5 per cent.
Only 11 per cent of shoppers react negatively to retargeting while another 30 per cent react positively.
Perhaps retargeting has simply become a victim of its own success. Retargeting isn't exactly subtle, and the public has demanded a more transparent internet. Whatever the case may be, web browsers have slapped marketers' hands away from the cookie jar.
And instead of trying to sneak around these developments to try and replicate the advertising methods people say they dislike, marketers should use this as an opportunity to embrace a fresh approach.
Cookieless Retargeting
A dedicated landing page is one alternative to third-party cookies. Start by creating a landing page unique to a particular ad campaign. Once that campaign has run its course, you'll have first-party data of visitors. Now you can run a dedicated landing page against those visitors, so you're not wasting resources trying to retarget irrelevant customers while moving interested customers down the funnel.
Another alternative is contextual marketing, which places relevant ads alongside content users are consuming. For example, you could place an ad for accommodations alongside a blog post about adventure travel. This is an old-fashioned technique that can be updated with modern, advanced data.
A New Digital Marketing Diet
As a growth marketing agency, Pulsion is prepared for the era of cookieless retargeting. We can help you build sophisticated landing pages complemented by efficient PPC campaigns and SEO best practices. Let us future-proof your marketing.
Call 1-866-554-1465 or visit our website to learn more.