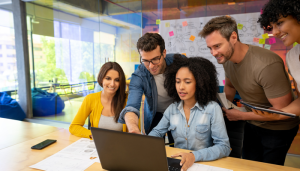 Businesses may consider a site migration if they're looking to improve SEO. Moving your website to a new host, CMS platform, or server can improve loading speed and user experience. For example, it is estimated that bounce rate increases by 123 per cent if a site takes up to ten seconds to load.
Every second matters.
However, a poorly executed site migration can seriously damage your SEO, taking months for you to regain your position on SERPs. A big UK retailer lost 35 per cent of its visibility two weeks after switching from HTTP to HTTPS. It took them six months to recover.
If you're planning a site migration, here's what you need to know to make it a success.
How Can a Site Migration Go Wrong?
One of the biggest ways a poor site migration can impact SEO is by undermining your domain authority. When you move your site, you're in danger of losing all your backlinks. If that happens, users who click on links directing to your old website will find a 404 error page.
A permanent 301 redirect will avoid this pitfall.
It's also important to check if your internal links are all directed to the new website. Strong internal linking encourages visitors to stay on your site and helps search engine bots crawl from page to page.
Metadata like title tags and meta descriptions can be lost during a database transfer. That's why it's important to create a backup before starting your site migration. If you notice metadata has been lost, you can compare it to the backup and then add it back in.
Otherwise, you'll have to do it all manually, which can be time-consuming.
Test drive any new platforms or hosts you're considering for your site migration. Variables like firewalls, JavaScript, or country restrictions can hamper search engine bots, damaging your SEO. You don't want to create new problems for yourself.
A site migration is a massive undertaking, so it can be easy to forget you have other assets across the web. Off-site presences like social media profiles, business directors, and more will also need to be updated to reflect your new site.
As you can see, there's significant backend work that needs to go into site migration. But if you're willing to be diligent, you'll have a smooth transition.
Let Us Manage Your Site Migration
Pulsion will ensure a successful site migration for your brand. Our skilled developers can create a stunning new website using SEO best practices. We'll take care of the backend, so you can focus on nurturing all the leads and conversions heading your way.
Call 1-866-507-8275 or visit our website to get a free proposal today.