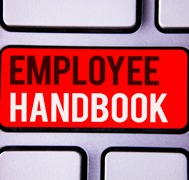 A few months ago, we wrote about why you should let your employees use Facebook (and other social media) at work to help promote your business.. But one of the challenges with doing this is controlling your brand messaging – that's where a social media policy comes in.
A social media policy is a great addition to any human resources department in our technological age.
It can:
Help avoid legal or security issues.
Stop a thoughtless tweet, social media faux pas, or off-brand message.
Set expectations among employees about what types of posts you'd like them to share on your company social media.
Direct how they are to share these posts.
And much more!
Want to create your own social media policy? Here's what you need to get started.
Step 1: Break your social media policy into two parts.
When we talk about this policy, there are two distinct areas:
How to manage the company's official accounts, and
How employees should conduct themselves on their personal accounts.
Step 2: Decide what to include.
Your social media policy might involve:
Rules such as:
Brand guidelines.
Etiquette and engagement.
Confidentiality
Consequences.
Social media for personal use.
Roles and responsibilities.
Can anyone post to the company's social media or is there a designated team or point person?
If an employee wants to post about the company, do they need to get the message approved first?
In the event that sensitive information goes out, or a controversial message is released, who is in charge of responding?
This might also include policies on staff social media training.
Legal risks, such as:
Proper use of images, video, and other media.
Crediting sources when using external media.
Privacy and disclosure.
Disclaimers about social media behavior when away from the office. For instance, according to Hootsuite, the City of Edmonton says, "As an employee, you are still perceived by members of the public as a representative of the City, even if you include a statement that your opinions are your own."
Security guidelines about:
Creating secure passwords.
Keeping software and devices updated
Avoiding phishing attacks and other scams.
Identifying a cybersecurity attack.
Brand messaging
Gap reportedly tells its employees to "Be careful discussing things where emotions run high (e.g. politics and religion) and show respect for others' opinions."
According to Hootsuite, the Gap social media policy also warns against engaging with negative comments, posting confidential information about the company, or talking about internal strategies.
You can find examples of other social media policies on Hootsuite's blog. They've done a great job rounding up policies from Walmart, the Government of Canada, Harvard University, and more. See it here: https://blog.hootsuite.com/social-media-policy-for-employees/
At Pulsion Marketing, we can help you create a content marketing plan that includes, or doesn't include, employee contributions. Contact us today to learn more about our social media programs.
Call 1-888-701-4441 or visit www.digiforcemarketing.ca.