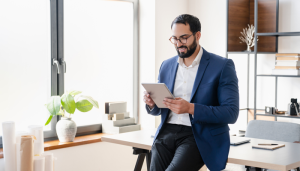 How often do you see brands on social media posting to "feed the algorithm?" So much of B2B branding through social selling has become stale. Businesses are pumping out content because they feel they must, and while they may have a large following, there isn't much engagement.
Successful B2B branding now requires engaging in the digital communities where your buyer persona participates, fueling conversation across channels, and, ultimately, making conversions easy through effortless transactions.
Here's what you need to know.
Social Selling for Authentic B2B Branding
McKinsey recently listed the five key components of a successful B2B branding community flywheel.
Know your buyer persona's community
B2B buyers are nearly 50 per cent more likely to consider a solution if marketers can personalize their messaging to their specific business issues. Reaching out to your buyer persona in a community where they're already participating will go a long way in establishing a winning rapport.
But before you can do that, you must identify these communities.
Researching your buyer persona will reveal insights into their priority communities and why they participate in them. This will also shed light on their pain points, how they like to be spoken to, and what drives them to make a purchase.
Make your brand talkable
One of the benefits of researching your buyer persona and their communities is that you can integrate their voice into your messaging.
Brands want to tout their values and benefits, but it's crucial that your messaging reflect the language of your buyer persona's voice. If you're trying to communicate your brand in a community that uses very specific language, but you're using vanilla ad copy, then your buyer persona isn't going to share your messaging.
Pick a few "hero products" that represent your brand
Buyers quickly tire of scrolling through all the options that are available online. Focusing your messaging on a select few distinctive offerings will make your message more easily recognizable and sharable.
Here you can feature the offering in all your online and offline channels, provide discount codes or free samples, or deploy interactive marketing tools, just as a few examples.
Feed the community with content
You need to earn the attention of your buyer persona's community and then you need to sustain the conversation.
If you've put in the work of understanding your buyer persona and their community's language, then one of the dividends is user-generated content. For brands that optimize all five elements of the B2B branding flywheel, 75 per cent of the content is user generated.
Brands can leverage this engagement by effectively monitoring and managing community activity.
Make transactions easy
Omnichannel isn't just for B2C anymore. To truly harness the power of social selling, you need to make the purchasing process as frictionless as possible.
Thirty-five per cent of B2B buyers are willing to spend $500,000 or more in a single transaction through remote or online sales channels, and 77 per cent are willing to spend $50,000 or more.
However, an additional 77 per cent of B2B buyers recently described their latest purchase as very complex or difficult.
If you're going to go through all that work to sell your product, you have to make it easy for your customer to actually buy.
Establish Rapport Through Your Networks
As a growth marketing agency, Pulsion has the social selling skills to laser-target your buyer persona for authentic B2B branding. Using advanced analytics, we understand your buyer persona and the communities they participate in. And by providing them with the compelling content they crave, we build lasting relationships with your customers.
Ready to grow? Call 1-866-507-8275 or visit our website to request a free proposal today.