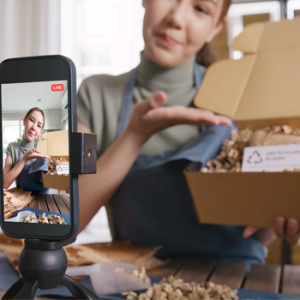 When TikTok first launched, the only feature that was available to its users was the ability to create and share short lip sync, comedic skits and talent videos. Over the years, new features were introduced, such as "live streaming" and "For You" personalized feeds. Because of this, users and influencers found a way to sell something, and sellers found a way to promote their stuff. This opened the way to the world of e-commerce selling.
Nearly six years after TikTok came to Canada and acquired 3.2 million of our daily users, the platform recently announced the "TikTok Shop." Since 2022, the idea of this program has been tested in several other countries in Southeast Asia and the United Kingdom. After a huge success, Canadians can be assured that the TikTok Shop will be coming to Canada by the end of 2023, as per the latest news.
The Current vs. New Customer Lifecycle
It's safe to say that TikTok is one of a kind. Unlike Amazon and Shopify, TikTok has established its base for users looking for engaging content. That's one of the reasons many TikTok Influencers have millions of followers and likes from people who have never made a single video.
Influencers/creators used this idea to promote external links or promote products through their presence. In most cases, this would include creators clicking on the Linktree link in the bio and finding the respective product. Many years passed with this idea. Now, TikTok has realized the limitations of the traditional selling approach and introduced TikTok Shop, which will allow creators to tag products for purchases directly within feeds and live videos, as described in the press release. This feature is a new way for TikTok creators to endorse and recommend products from their TikTok Shop to their followers and earn a commission in return. To make things smooth, this feature will include an updated interface and a dedicated shopping tab where users can create product portfolios and catalogues. 
The press release adds: "The most unique program may be the 'Fulfilled by TikTok' function. This will be a new logistics solution where TikTok Shop will store, pick, pack and ship sellers' items to customers while merchants focus on selling their product." This process will speed up the process of buying and selling for both sides.
TikTok's User Behaviour
It's not that hard to rank on TikTok. This can be done by leveraging its algorithm-driven platform and through SEO strategies. Using these two methods will allow users to get more exposure to rank their videos that they know will be met with increased engagement. TikTok also has personalized feeds, meaning that it will favour your content and showcase it to a wider audience on the "For You" tab. TikTok will do this if they believe a certain user will likely find your content interesting. Constant use of hashtags, keywords and high-quality content can increase your chances of going viral and getting more eyes on your videos. 
How is it Beneficial for Sellers?
TikTok is not merely a platform — it has grown into a community of active users and influencers. Now more than ever, brands and sellers can directly target influencers/creators to market their products. Sellers can place a commission structure on their products, and influencers can earn a share from the sales they generate for you. 
Brands That Have Already Benefited from TikTok's Algorithm-Driven Platform
It's not hard to prove that many brands, in fact Canadian brands, witness increased growth through TikTok. Take, for instance, Montreal-based shoe and accessories company Aldo. In 2021, they achieved 17,000 page views within just five days of live streaming. This translates into 20% of their sales increase. Similarly, Aritzia experienced a 22% sales increase in Canada and a 58% boost in the US. In a press statement, Aritzia said: "Our views on TikTok have surpassed two billion and are growing at a rate of nearly 100 million every month." Sephora used TikTok to market its products. They used a different hashtag approach where influencers were using hashtags such as "#SkinTok" and "#BeautyTok" to increase visibility. 
It's evident that TikTok Shop is highly beneficial for brands that have already established some of their presence on the platform. In a better scenario, TikTok Shop, paired with live streaming, is a simple and straightforward way for customers to buy your product. On top of that, this process also eliminates the need for product search, cart placement and checkout when it can all be done in an instant through TikTok Shop.
Conclusion
The above examples explain that live streaming paired with TikTok Shop will have a huge advantage for both creators and brands. Now, the time for product discovery, selection and checkout is reduced all due to the TikTok Platform. On a good day, an interested buyer can check out their product from their favourite influencer in under 5 minutes — it's gotten that easy.