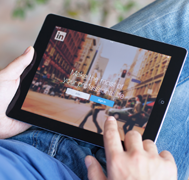 Networking is usually done at in-person events. Business cards are exchanged, you meet prospects, and conversations happen over cups of coffee.
However, the COVID19 pandemic has temporarily halted these business networking events, leaving entrepreneurs, small business owners, and marketing and sales professionals concerned and anxious.
With major tradeshows and exhibitions being cancelled or moved online, can you still network effectively in Canada?
Yes, you absolutely can! It might be slightly difficult… but not impossible. The key is to use your digital platforms more proactively.
Take advantage of virtual networking events
Some key events have gone virtual in 2020. While you may not get to attend in-person, it is still useful to register for these events for networking during the pandemic.
Establishing and maintaining virtual relationships is crucial for ensuring business success. By attending online networking events, webinars, and tradeshows you can still interact with like-minded individuals and even request their email addresses to continue the conversations over email.
Remember – everyone is in the same boat! We are all trying to make sense of this new reality.
So, don't worry about putting yourself out there. Ask questions in chats, attend breakout sessions, and volunteer to speak at panel discussions.
Use LinkedIn effectively
While online events are a definite yes, they are usually scheduled at certain times of the year and you really can't wait for the next event to continue your networking efforts.
This is where social media, LinkedIn in particular, comes in:
LinkedIn has 675 million monthly users.
30 million companies across the world use the platform.
89% of B2B marketers use the social media platform for lead generation.
These impressive numbers show why LinkedIn is a great platform for networking and relationship building. Here's how you can use the platform effectively to make meaningful connections.
a)Â  Keep your profile up to date
This may seem like something extremely basic, but it is important. If you're looking to sending connection requests and engaging with posts, your profile will most likely start getting viewed.
Having a clear, organized, and updated profile helps people learn more about you. In addition to writing about your work experience, you should also focus on providing information about your certifications, education, and personal interests.
Since there is no in-person interaction, your profile needs to convey who you are and be interesting enough for a person to connect with you.
b)Â  Build connections
When you're reaching out to individuals, make sure you're not sending a blank ad request. Think of your invitation as an elevator pitch. Mention why you'd like to connect with the person and share some information about yourself.
Personalize your message. If you've seen one of their posts or comments on LinkedIn, put that in.
This increases the chances of your request being accepted.
c)Â  Create content and engage with content created by others
LinkedIn provides an incredible opportunity to share and access industry-specific and thought leadership content. Pulse blogs, for instance, are a great way for you to get recognized on the platform.
By putting out insightful content you can spark conversations in the comments thread and engage with your prospects. Relevant and informative content not only helps you establish authority in your field of specialization but also enables you to successfully connect with the right people.
Similarly, engaging with the content posted by your prospects helps in fostering relationships. You can also use hashtags, on LinkedIn, to find your topics of interest and strike up a conversation with the author by leaving a comment or a question.
Who knows … you might even end up having a discussion with an industry leader!
d)Â  Join LinkedIn groups
LinkedIn groups are another place where you can interact with individuals from your industry.
Joining these groups can open up new networking possibilities as you get a chance to interact with a large number of people within your sector. However, it is important to ensure that you share content that adds value as most of these individuals are knowledgeable and may not engage until the content really speaks to them.
Since you can join up to 100 LinkedIn groups, it's important to choose the right groups to find LinkedIn success.
Seems like a lot of work – Get a helping hand
While LinkedIn presents a lot of opportunities; sourcing and drafting content, searching through a billion groups to find the right ones, and looking for the right people to connect with can be quite time-consuming.
Consistency is the key with LinkedIn. If you pause your efforts, you can easily lose visibility and consequently, your leads.
Working with a digital marketing consultancy can help you use LinkedIn effectively. You can get support on a number of things including:
Planning.
Prospecting.
Direct solicitation.
Establishing new connections.
Creation of group content.
Posting of content in groups.
Monitoring.
Reporting on engagement.
At Pulsion Marketing, we offer enhanced LinkedIn programs where we do most of the heavy lifting so that you can focus on other aspects of your marketing plan.
Contact us today to find out how we can help. Call 1-888-701-4441 or visit www.digiforcemarketing.ca.
Download our free eBook about LinkedIn marketing: https://www.gopulsion.io/recognized-social-communities-ebook/.