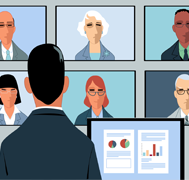 There's no question that the novel coronavirus, COVID-19, has turned business upside down for many companies worldwide.
Between government-mandated shutdowns, the increase of remote work, and supply chain challenges, many businesses have had to shift the way they operate.
While some businesses have had to close down completely — especially if they relied on in-person sales — luckily many have the option to operate online while maintaining social distancing.
This is a challenging time but there is one thing making it easier — business technology.
TECHNOLOGY, TECHNOLOGY, TECHNOLOGY
Business technology offers more options than ever for organizations to maintain service during times of trouble, such as the COVID-19 pandemic.
Even if you can't go into the office or a store, the clients and customers can come to you – digitally.
These are some of the ways the right business technology can make that happen.
a)Â  Services
How can your service be delivered digitally? This is where business technology can come in. The right software can allow for digital signatures, teleconferencing, virtual real estate showings, document sharing, and much more.
In the medical field, some family physicians have been doing consultations over the phone or video chat.
If you are in a service-based business, you might be able to offer the same level of service all online. Even if you have to reduce some service levels, something is better than nothing.
b)Â  Products
How can you make it effortless to pay for your product online and then deliver it to your customers? You should be actively working on this question because we don't know when the COVID-19 pandemic will end.
Some areas have mandated that all non-essential businesses shut down temporarily, so operating online may be the only option you have for the time being if your business falls into this category.
If you already had an eCommerce solution in place and are able to continue operating it in your jurisdiction, now is the time to promote it. This might include digital offers, like coupons, giveaways, making it more prominent on your website or social media, advertisements, and more.
c)Â  Bigger Ticket Purchases
Not all purchases happen instantly. Especially for more expensive products or services, it often involves a lot more decision time on the part of your prospects. This is also known as the buyer's journey.
The first two stages of the buyer's journey are awareness and consideration. Purchasing is actually the final step on the journey — and the smallest segment. Even if your services and products are put on pause or reduced for now, you can use this time to bring prospects through your customer journey.
The key to this is education — emails, eBooks, blog posts, videos, whitepapers, testimonials, demonstrations, and so on… Take the time to promote any value-added content that helps prospects reach the decision stage, or to create new content!
d)Â  Digital Content Creation
Speaking of new content… digital content creation is more critical than ever – everyone is at home!
While many people are in isolation, if they can't work, they may be scrolling the Internet and looking for new content to consume. This might be COVID-19-related content, or it might not (streaming services like Netflix, Disney+, and YouTube have all had to cut back streaming quality in Europe because so many people are watching).
In either case, this is the time to lean into creating new content for your userbase to keep their interest and potentially attract some new fans too!
Are you prepared to deliver services digitally during the COVID-19 pandemic? Share with us on social media. Pulsion Marketing is on Twitter and LinkedIn.
We can help you adapt your business to online and create a digital marketing strategy tailored for the COVID-19 pandemic and beyond. We operate remotely in Canada. Call 1-888-701-4441 or visit www.digiforcemarketing.ca for a free consultation.