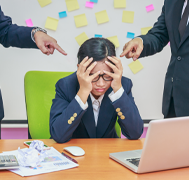 When social media first emerged, the trend became for companies to implement bans — in particular, blocking employees from using Facebook at work.
The logic seemed to make sense. Time spent on Facebook and similar sites at the office was time wasted and would decrease productivity.
However, now times are changing.
Today, social media is an important part of any business strategy, and your staff plays a key role in the process.
Employees can be a great marketing tool for a company if they are posting positive things about their work online. A mutual connection might see it and refer a business opportunity simply because they know the person.
Word of mouth is still crucial for encouraging sales (hence why influencer marketing and brand ambassadors are on the rise) and your employees can contribute to that.
Plus, if you are using social media recruiting current staff can offer testimonials and a day-in-the-life picture to entice new talent.
While the go-to strategy for a while was to ban social media use in the office, instead you should have a social media contract and specific strategy for encouraging employees to engage on behalf of your business.
Consider the following:
Provide education and training.
Just because someone has a personal Facebook or Instagram profile, it doesn't necessarily mean they are a good marketer. Train employees (in particular front-facing staff, such as sales and customer service reps) to use proven social media strategies.
This could help them think of posting possibilities and make them excited to join the cause.
Set clear expectations.
In order to be successful, you need to have an idea of what success looks like — and so does your staff. Outline how, when, what, and where employees should post to social media.
For best results, make it part of your content creation strategy.
Assign a point person.
If you are worried about what employees might post, one way to achieve quality control is to have a specific person do the posting. If staff send ideas or pre-written content to a social media coordinator, then that person could be the one to share it.
Alternatively, the coordinator could approve staff content and then the employee who wrote it could share it on their own social media.
Track results and reward employees who participate.
As with the rest of your digital marketing efforts, you should be tracking your social media marketing analytics. If one employee's posts are doing particularly well, note it and let the team know.
Develop a social media policy.
Depending on the size of your organization, it may be too time consuming to have one person review all posts. In that case, you may want to develop a social media team or a social media policy.
You may even create two social media policies: one for your company accounts and the other for an employee's personal accounts.
Your policy might include:
Brand guidelines.
Roles and responsibilities.
Etiquette and engagement (particularly how employees should respond to negative comments).
Potential legal risks, such as crediting sources.
Employee disclaimers.
Security risks (particularly if you are providing passwords for company accounts).
With the right guidance, your employees can help build an even more robust social media platform.
Let us know – do you ban Facebook at work? Would you create a social media policy? Share with us on Facebook, Twitter, or LinkedIn.
Pulsion Marketing can help craft a strategic digital marketing plan that makes the most of your employee engagement. Contact us today to learn how. Call 1-888-701-4441 or visit www.digiforcemarketing.ca.