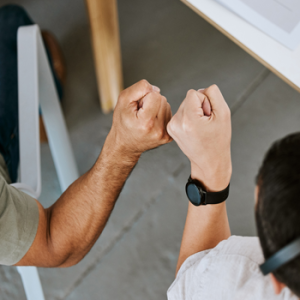 When we think about the sales team, our first instinct is to think that their role is related to conversion or customer retention. However, in larger organizations where selling becomes more challenging, the sales team often ends up bagging additional responsibilities that do not contribute to their sales effort. This is not the case with one or two sales reps, but in fact, only a total of 41% of sales rep's time is dedicated to selling, according to CSO Insights. This means that the rest of 59% is wasted in researching, creating the same materials, planning, follow-ups or other daily tasks. This, eventually, limits their potential to maximize their output.
The Role of Automation in Sales Adaptability
It's being said that a third of sales and sales operations tasks can be automated with today's technology, according to McKinsey Global Institute (MGI). On a similar note, machine learning and robotic process automation are also leading the way in sales technology, with 55%-70% adoption rates.
This means there is an open opportunity to simplify the sales process by automating multiple steps and workflows within the sales team. More importantly, the use of automation does not mean sidelining salespeople but rather helping them by reducing manual day-to-day tasks. The tasks of successful automation are to lessen the load on administrative tasks and allow reps to focus on what's what's important: Nurturing relationships.
What Does a Successful Sales Process Look Like?
In simple words, sales adoptability means the ability to integrate new technologies and strategies into a sales process. Automation, in this regard, would involve using software tools and systems to simplify the sales journey. When marketing and CRM systems work together, the sales team can see a clear view of the sales funnel. This transparency would help to understand the sales dynamics and how marketing is contributing to the flow.
When you integrate marketing and CRM on a unified platform, it just gets better. You can analyze and manage Sales Qualified Leads (SQLs) as well as track deals, monitoring of monitoring of progressions and other related tasks. We recommend using HubSpot for this. 
HubSpot CRM Among the Others
With a well-rounded CRM like HubSpot CRM, you can automate email sequences, workflows, sales processes and contact management, as well as streamline the nurturing of leads and guiding them through the sales funnel. The great thing about HubSpot CRM is that it is also easier to implement and offers the best technology stack. Also, it is suitable for both professionals and enterprise-level organizations. 
With the use of automation, your sales team can customize and automate many tasks. In the long run, this will not only save time but also ensure that no leads are overlooked or left behind. 
Case studies have highlighted the importance of automation and CRM integration for businesses. For instance, a leading technology company in Canada observed improvements in their online engagement, soft conversions and sales pipeline management after they implemented the HubSpot CRM. This proves that HubSpot CRM is a valuable investment for many companies.
How to Adopt This Sales Intelligence Using HubSpot
Now that you know, sales adoption is a time-consuming process. At first, organizations face challenges related to data consistency, user adoption and alignment of automated processes. However, these challenges are timely and can take a couple of weeks, if not months, to fully get your team up and running. 
To make the transition easier, companies often take advantage of courses offered by HubSpot Academy. This way, sales teams can learn about best practice tools while gaining hands-on practice. Next, businesses can also focus on advanced training for their sales teams. This will ensure that the team completely understands the benefits of automation and CRM integration. 
The impact of automation is clear and measurable, followed by increased efficiency, improved visibility and cost savings. This also leads to happier sales teams in the long run.